Home
> ACL Flux Remover Heavy Duty
---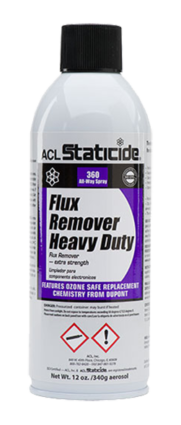 ACL Flux Remover Heavy Duty
Specialized for Advanced Plastics
The Flux Remover Heavy Duty aerosol is a full-strength formulation can be used in any industrial setting but is specialized to use on advanced plastics. Without sacrificing strength, ACL's most plastic-safe solvent is ideal for applications using soft plastics.
Flux Remover Heavy Duty will remove the toughest deposits of synthetic fluxes, soldering oils and other contaminants such as grease and molding compounds from electronic sub-assemblies, printed circuit boards and all other electronic components. As a non-flammable aerosol, it is an excellent choice to use in areas with sources of ignition or heat.
This Heavy Duty Flux Remover is suitable to use in medical device manufacturing and assembly; aviation, avionics, and medical device prototyping;and telecom manufacturing and installation.
Suitable to use in high risk safety areas
Plastic-safe even on soft plastics
Removes oil, grease, ionic, and non-ionic residues
Cleans and removes R, RA, RMA, and all synthetic flux residues
Non-abrasive, non-flammable, non-corrosive
Evaporates quickly and leaves no residue
Ozone safe: contains no CFC's or HCFC's
Slightly water soluble