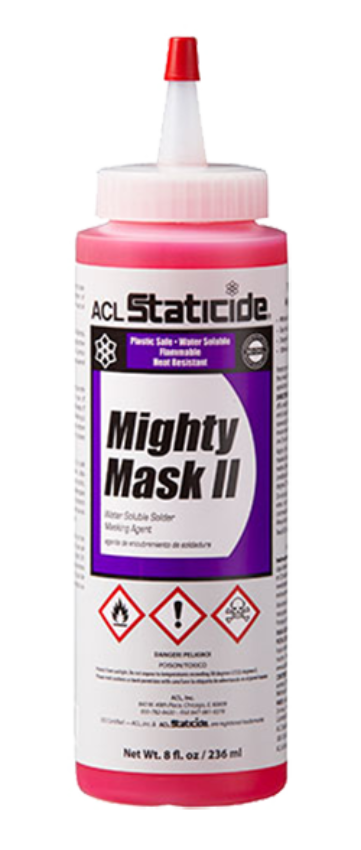 Mighty Mask II
Fast-curing Water-soluble Solder Masking Agent
Mighty Mask II is a top quality washable solder mask designed especially for closed-loop water systems. Used widely in electronics and printed circuit board manufacturing, Mighty Mask II prevents unwanted soldering of protected areas during wave soldering. It applies smoothly, dries quickly, withstands high lead-free process temperatures, and removes easily in batch and in line cleaning systems.
ACL's Mighty Mask II is ideal for PCB washer machines in mass production and for protecting pins, posts, contacts, and edge connections during conformal coating processes. It is safe to use on ion beds and filters in closed-loop cleaning systems. This washable solder mask is compatible with rosin flux, lead-free flux, water-soluble flux, and most solvents.
Compatible with rosin, lead-free, and water-soluble fluxes
100 % water-soluble
Leaves no residue or contaminants
Non-corrosive and safe for plastics and metals
RoHS compliant
Made in USA
Please be aware of extended lead times during winter.
ACL only ships solder mask on Mondays and Tuesdays during the winter months due to limited freeze cycles. In cases of extreme temperature and weather patterns, a shipping halt may occur.