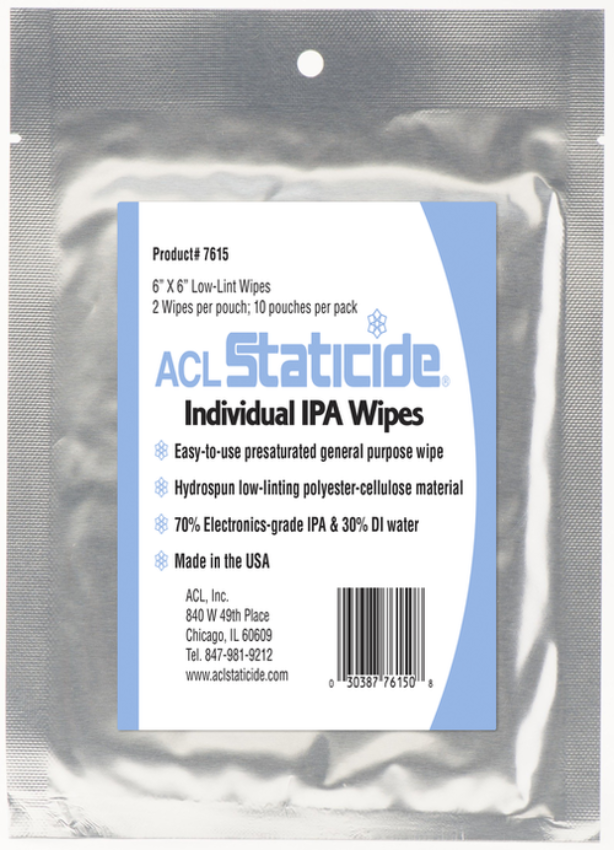 7615 Individual IPA Cleaning Wipes
Presaturated "On-The-Go" Wipes
ACL Staticide® Individual IPA Wipes are an essential item for the field service toolkit. Packaged in a convenient single-use pouch, these presaturated towels are ideal for any "on-the-go" cleaning that may arise in a manufacturing environment or out in the field. Safe for plastics and metals, these wipes are great for wiping remote service boxes.
Made with a blend of polyester and cellulose, these wipes provide a strong solvent-resistant low-linting material that makes them an effective choice for the cleaning printed circuit boards, hardline coax cables, and fiber optic cable splices. They are great for the touch-up cleaning of automatic printer stencils and cleaning of semi-automatic printer stencils during and at the end of production runs.
Using high-purity electronics-grade isopropyl alcohol, ACL Staticide® IPA Cleaning Wipes are excellent for maintaining the cleanliness of control systems and fiber optic connectors.
Contains two 6" x 6" wipe
55% Cellulose, 45% Polyester
Hydroentangled nonwoven 

70% High-purity electronics grade isopropyl alcohol and 30% deionized water
Flammable

Evaporates quickly; non-residual
Safe to use on plastic and metal
RoHS compliant
Made in the USA