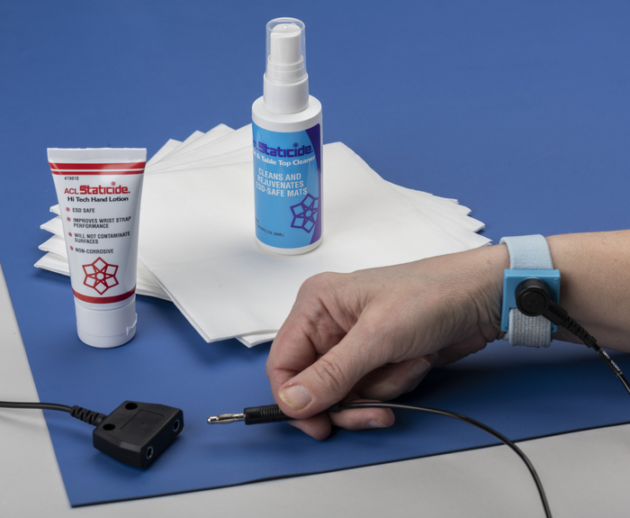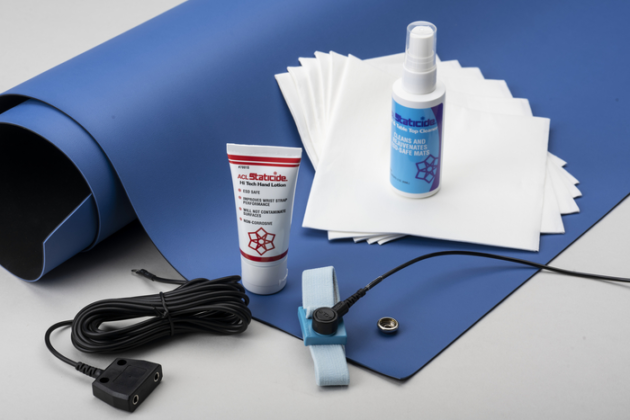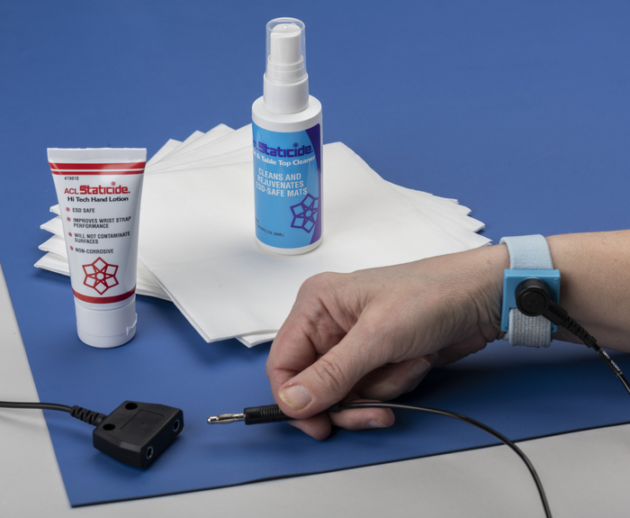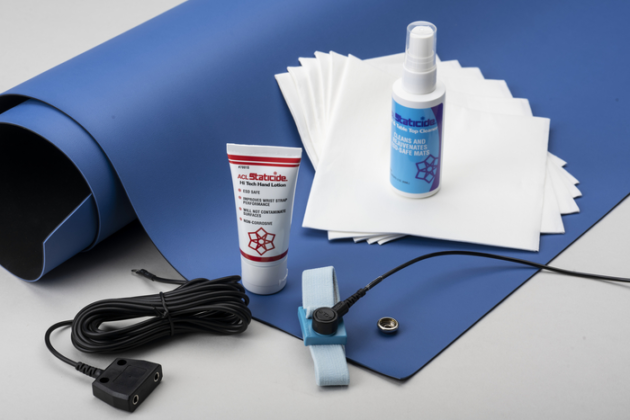 Dualmat® Workbench Kits
ESD Workbench Starter Package
The Dualmat ESD Workbench Kit offers a great starting point for creating a static controlled work area that is ESD-safe. The workbench kit uses a two-layer cross-linked anti-static rubber with an inherently dissipative top side and conductive bottom side, which allow charges to move safely away once the mat is grounded. The durable embossed material provides reduced parts slippage and resistance against most common solvents. Once assembled, this easy set-up is ready for high temperature soldering.
Every kit includes a mat equipped with two female 10mm snaps installed for grounding points. The 10' grounding cord fits securely on one of the ground snaps and features two banana jacks as a plug-in for the supplied premium wrist strap and ground cord. Use the convenient ACL Hi Tech Hand Lotion to further ensure good skin-to-wrist strap contact for improved grounding practices.
To maintain the electricals of the mat, use Staticide Mat & Table Top Cleaner with the LF50 Heavy Duty Wipes. This combination of neutral cleaner and low-lint wipes will leave the anti-static surface free of contaminants without harming the integrity of the mat.
Designed for electronics assembly and PCB rework, repair, and prototyping, this grounding mat can be used in multiple applications including automotive, aero-defense, robotics, computer repair, or electronics manufacture. This kit is suitable for any EPA following ANSI/ESD S20.20 standards including STM 4.1. RoHS and REACH compliant.

Dualmat two layer; conductive bottom, dissipative top
Top side resistance measures 106 – 108 ohms
Bottom side resistance measures less than 5x10e5 ohms
High Tech Hand Lotion ensures good wrist strap contact
Mat & Table Top Cleaner for proper cleaning
LF50 Heavy Duty Low Lint Wipes
Premium wriststrap provide supreme comfort
Each cord is built with a 1-meg resistor
Suitable for programs following ANSI/ESD S20.20
Custom cut sizes and colors available
Part numbers reflect royal blue 0.06" Dualmat. Custom kits available