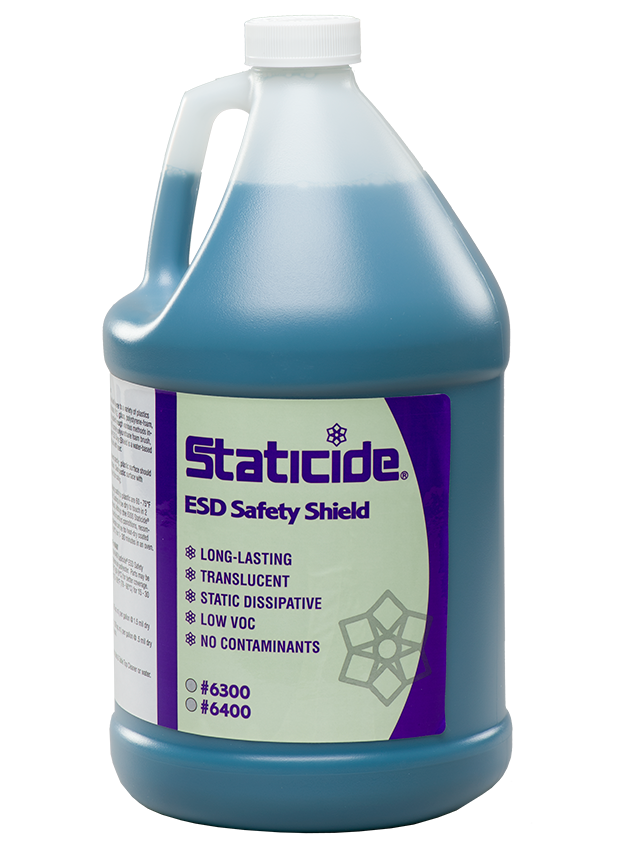 Staticide® ESD Safety Shield
Advanced Dissipative Static Control
The Staticide® ESD Safety Shield coatings are made of a proprietary blend of conducting polymers which allows the coating to be inherently dissipative regardless of ambient relative humidity. Unlike surfactants, this Pedot formulation provides dependable protection by allowing static to dissipate safely without wearing off or losing resistivity.
Intended for indoor use, the Staticide® ESD Safety Shield is simple to use since it is a water-based one-part system. Whether applied by spraying, flow coat, dipping, or foam brush, the coating will be translucent without appearing "milky".
Staticide® ESD Safety Shield's low V.O.C. formulation will not outgas harmful or volatile components once dry. It is RoHS compliant and meets ANSI/ESD S20.20 for static dissipation.
Like our Staticide® topicals, in the right situation Staticide® ESD Safety Shield provides a cost-effective solution without sacrificing efficiency and quality. It is suitable to use where static interferes with production assembly and ideal to use in static control environments to prevent ESD events. Use on electronic packaging, conveyor parts, and on objects in electronic assembly work areas.
Please be aware of extended lead times during winter. Due to the limited freeze cycles on this product, ACL only ships the ESD Safety Shield on Mondays and Tuesdays during the winter months. In cases of extreme temperatures and weather patterns, a shipping halt may occur.
Surface resistivity of 106 to 109 ohms/sq.
Water-based acrylic
Translucent without appearing "milky"
Adheres to a variety of plastics without chipping or peeling
Meets ANSI/ESD S20.20 for static dissipation
Can be applied via flow coat, dipping, foam brush, or spray
Ambient cure