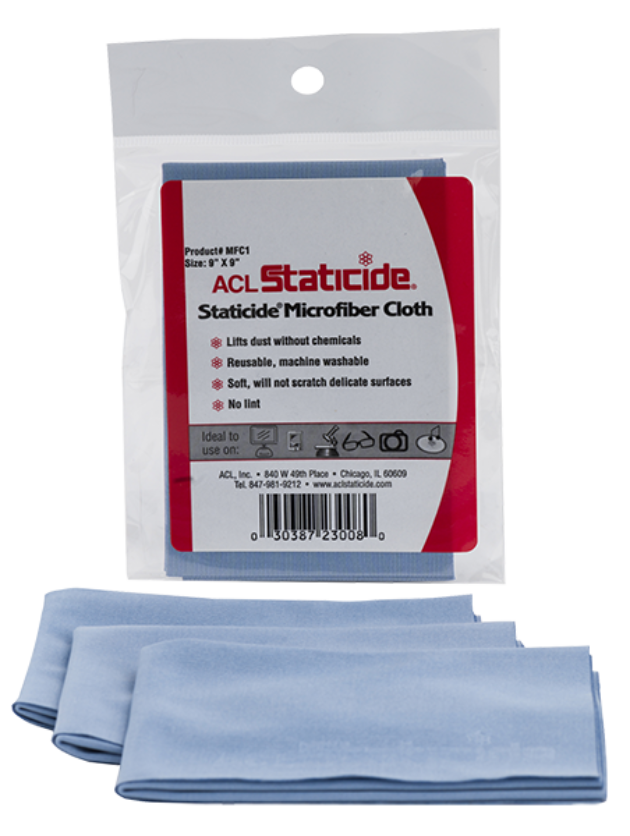 Staticide® Microfiber Cloth
For Delicate Heavy-Duty Cleaning
The ACL Staticide® Microfiber Cloth provides superior cleaning performance for general applications where strength
and softness are required. The split-fiber construction allows more dirt, dust, and oil to be removed than traditional wipers.

Where some microfiber cloths have an unpleasant tactile drag, ACL Staticide® Microfiber Cloth feels unusually silky to touch. Surfaces remain unscratched when wiping with or without the use of chemicals.

For the best performance, soak cloth in water prior to initial use and allow it dry. For dusting, use dry. For cleaning, dampen with water. Avoid oversaturation. If using a cleaner, avoid detergents with bleach and abrasive materials like silica.

The ACL Staticide® Microfiber Cloth can withstand a few machine washings if it gets dirty. Hand wash under warm water with liquid detergent or machine wash on a regular cycle. Avoid washing with linty items like towels. Do not use bleach or fabric softeners. Do not iron.
Size: 9" x 9"
Thickness: .45 mm
75% polyester / 25% nylon
Ultra-low particle and fiber generation
Super soft material; does not scratch
Laser sealed edges for fiber and particle retention
Blue