Home
> Staticide
®
Ultra II
---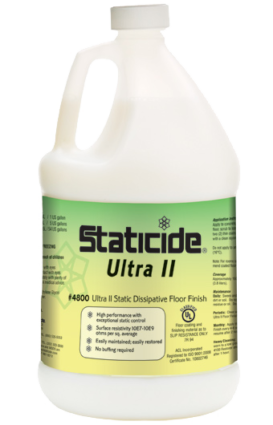 Staticide® Ultra II
Ideal for Any Static Control Environment
Whether revitalizing old ESD tiles or protecting a new epoxy floor, ACL's Staticide® Ultra II Floor Finish will help safeguard your costly investment of specialized flooring. This distinctive anti-static blend is compatible with problematic plasticizers found in conductive and dissipative tiles and epoxy. Staticide® Ultra II is also the ultimate choice for adding gloss and static protection to concrete.
It is suitable for any static control environment, such as electronic, medical, and cleanroom manufacturing facilities, and for sensitive device manufacturing.
Please be aware of extended lead times during winter. Due to the limited freeze cycles on this product, ACL only ships floor finishes and paint on Mondays and Tuesdays during the winter months. In cases of extreme temperatures and weather patterns, a shipping halt may occur.
Coverage is approximately 1500 – 2000 sq. ft. per gallon
V.O.C. is less than 4%
Solids are 21%± 5%
UL listed for slip resistance
Compliant to ANSI/ESD S20.20
Surface resistance (RTT): 107 – 109 ohms @ 100v at 12 RH
Strip cycle is 12 - 18 months
Use on concrete, epoxy, ESD epoxy, and dissipative tile
Ingredient Communication Statement
Water (7732-18-5) Solvent
2-methylidenebutanoic acid;methyl 2-methylprop-2-enoate;2-methylprop-2-enoic acid;styrene (28263-96-9) copolymer
Ethoxydiglycol (111-90-0) Solvent
Tris(2-butoxyethyl) phosphate (78-51-3) emulsifier